Music. Culture. Identity.
Pete Escovedo's work paints breathtaking portraits of life's ever-changing vibrancy. A master of color, texture, and shape, Escovedo transports us to a timeless world reflective of our own.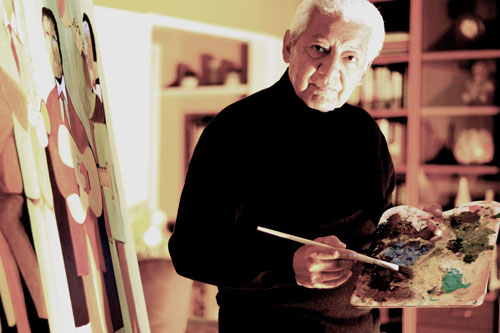 Pete Escovedo has been painting since the age of 15. Over the years he has created an incredible and diverse body of art work.
Working primarily in oils, acrylics, enamels and mixed media, his paintings thoughtfully explore the many layers of culture, identity, community and music.
Exciting Changes Are Happening.
Check out the featured original painting of the month!
Inspired by the universal themes of music, culture, family, and identity, Legendary percussionist Pete Escovedo has earned global recognition for his work in both the contemporary art world and the music industry.
He is widely credited for breaking the barriers between Smooth Jazz, Salsa, Latin Jazz and contemporary music.
PURCHASE ORIGINAL ARTWORK FROM THE COLLECTION
Learn more about Legendary Musician, Percussionist, and Artist Pete Escovedo.